The Jake Bernstein Monster Moves Report
If you're a trader with even limited experience, then you know that the big money is made in the big moves. We've all been there, grabbing small profits and leaving the big bucks on the table. It's heartbreaking. To know that you correctly anticipated a gigantic move and to have only a few hundred dollars of profit to show for it is not only depressing, but also hugely frustrating.
In order to get the big moves you need three specific strategies:
1. You need a way to find the monster moves before they happen
or early in their inception
2. You need to know the right vehicles for participating
in these long-term moves and
3. You absolutely must have a profit maximizing strategy
or you will leave the big bucks on the table

If you attended my recent long-term investing webinar then you know that I have developed solid rules designed to achieve all three of these vital elements. After the webinar was over, I received many requests to establish a regular informational service to keep you up to date on the status of the monster moves. I'm glad to see that so many of you appreciate what I have done, but you also want to pursue the process of getting on board with these major moves.

Accordingly, I will initiate a new service in two weeks
designed to achieve the following goals:

• To illustrate and pinpoint the approximate timing and direction of
the next monster moves
• To show you the major cyclical patterns in all active US futures markets,
as well as some overseas markets (Gilt, Bund, Nikkei, Dax, Hang Seng, FTSE)
• To inform you of my specific rule-based procedure to find these moves
and to project them forward in time
• To consistently show you the same features and their timing status,
issue after issue, so that you can see the process developing,
and act accordingly
• To share my timing strategies with you
• To pinpoint the timing of market turns
• To provide you with a proxy or ETF for each market
• To follow through consistently on each long-term move until they have ended
• To give you clarity, consistency and guidance
Right now, for example, I'm looking at between 5 to 7 absolutely monster moves that have just recently started, or are about to begin. Among these are Cocoa, and the British pound versus US dollar. Look at these two charts. Each issue will have at least 40 charts with my verbal comments.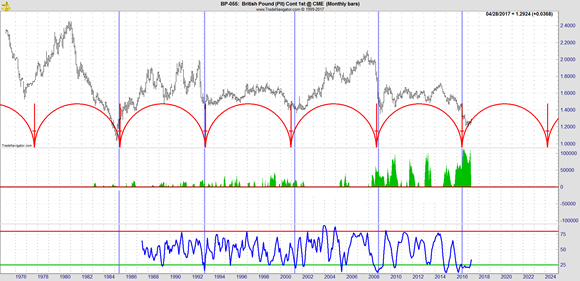 THESE ARE THE VERY SAME CHARTS AND RULES
I HAVE USED IN MAKING SO MANY AMAZINGLY ACCURATE
LONG-TERM FORECASTS!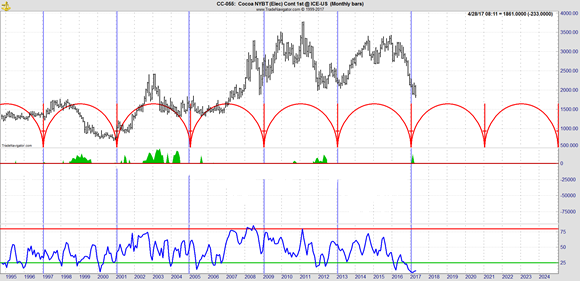 Here is a partial list of what I will provide in each issue.
As you can see the charts will include the following:
• The major cycles
• The projected cycles
• COT (commitment of traders) activity
• Small trader sentiment
• Detailed and concise commentary and recommendations
• Price target projections where possible
• Each issue will be recorded for your on-demand replay at any time
• You will receive a PowerPoint and PDF file for each report
• At least 20 markets will be covered in each issue

I have never offered a service this comprehensive,
or as detailed as this report.

Due to the nature of long-term moves, I will require a minimum subscription commitment of two years, so that you may fairly evaluate the profit potential of this report in your investment portfolio. Please remember that this is not a short-term in and out report. Also remember that this type of solid information and clarity do not come cheaply. Without a doubt, this report will not be suitable for some traders who seek only to get in and out quickly. However, if the big moves are what you're looking for, and you can appreciate their immense value in your investment portfolio, then this is the report for you.

See the links below to subscribe.

If you have any questions, write me: jake@trade-futures.com

Truly,

Jake Bernstein