WEEKLY C.O.T.
Weekly Commitment of Traders Analysis and Forecast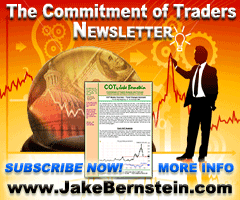 THREE or MORE MARKETS are NOW on the VERGE of HUGE LONG TERM RALLIES!
Based on my COT Analysis at least two of these markets could ... DOUBLE IN PRICE OVER THE NEXT 12-24 MONTHS!!!

Find out WHY and HOW I have reached that conclusion and LEARN how to do it yourself!

Learn to use the single MOST POWERFUL intermediate and long term indicator!

Learn how to FIND OUT WHAT'S NEXT!

FREE TRIAL
of the Comittment of Traders Analysis and Forecast
Jake Bernstein's - Weekly Comittment of Traders Analysis and Forecast
My work with the COT has allowed me to provide clients and subscribers with some of the most accurate long term and intermediate term forecasts available anywhere at any price.
Each issue contains my specific analyses of the COT to help you:
FIND the BIG moves in ADVANCE!


TIME the BIG moves using my EXCLUSIVE combination TRIGGER tool!


PROJECT the approximate SIZE OF MOVES and MORE!


Clear charts and INDICATORS that SHOW WHY!
Here is sample of what my COT indicators and analyses told me BEFORE the record
breaking rally in soybean prices...

Click to enlarge