Individual Webinars 2 — Online Seminars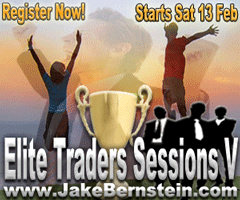 Jake's goals: Show you HOW, WHY, WHEN and WHAT to trade with 100% OBJECTIVITY, Help you AVOID common and not so common roadblocks to success, Help you learn to make the markets work for you, To keep things REAL! Jake won't use words "like", "might", "could", "interpret" etc. ETS V runs for 8 wks, 90min ea, focused on select diversified markets futures, spreads and timing, and some stocks. Attendance limited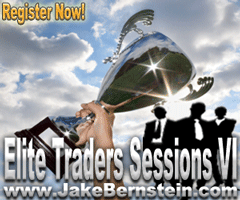 Jake's goals: Show you HOW, WHY, WHEN and WHAT to trade with 100% OBJECTIVITY, Help you AVOID common and not so common roadblocks to success, Help you learn to make the markets work for you, To keep things REAL! Jake won't use words "like", "might", "could", "interpret" etc. ETS VI runs for 8 wks, 90min ea, focused on select diversified markets futures, spreads and timing, and some stocks. Attendance limited
Preview Webinar
Elite Traders Group II - Existing Clients. 90 Minute Sessions. Every Saturday for three months, beginning on 31 Jan '09. Talk to Jake every weekend and get: Jake's interactive verbal market analysis, Specific recommendations, stops and targets, Up to date, totally objective technical analysis' for serious traders
Preview Webinar
While trading success isn't magical, it seems that way when you know how to do it. So get your trading mojo back or if you never had it then get it
The Federal Reserve has been stepping on the low interest rate and economic stimulus acellerator with a lead foot. This degree of stimulus is unprecedented, and the likely end results will be unprecedented. A major change in trends is coming very soon, in fact it may be starting right now! If you haven't prepared for what's coming, this is not the time to delay. My goal is to prepare you.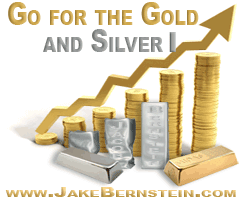 The time is rapidly approaching for what has been the single best gold and silver trade of the year. Not only are the odds high but the moves have been large! The stage is being set for another move this year both in gold and in silver - but there's alot more to it than that!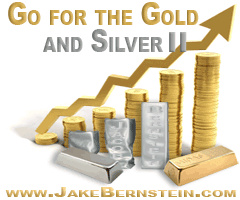 The current status of all long-term and intermediate-term precious metals recommendations, Where and when will the next big moves happen? Are commercials giving us clear and bullish signals now? Is palladium the best horse to ride into the golden sunset? The long -term cycles and cycle trend projections in all metals, Five new recommendations on low priced shares that could rally over 300% in the next year.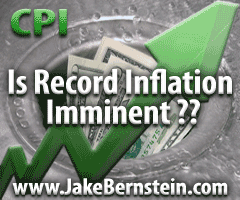 Is Record Inflation Imminent? Inevitable? More importantly is it UNAVOIDABLE? If you have been listening to my forecasts then you know how good they have been. Have they been perfect? Of course not! Have they been very accurate? Yes! Prepare now for what may well be the most volatile and most potentially profitable opportunity since the 1920's!
What happens in China will significantly impact ALL THE MARKETS WORLDWIDE. While many investors, professional and individual have flocked to China as the new area of huge profits, there are some SERIOUS and GROWING risks in the Chinese markets, and these risks are not only financial but political as well!
Preview Webinar
Many weeks ahead of this Webinar Jake warned clients and Webinar attendees of a pending market crash in commodities. In this Webinar Jake reviews the forecasts and shows the current status of his predictions complete with charts and indicators.
Preview Webinar
The lows that Jake was expecting after the collapse he so correctly predicted are coming. Jake talks about which markets to watch and how to turn them into "princes" from frogs. He shows specific markets and trades as well as timing and triggers. Very precise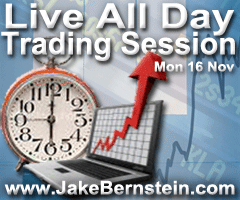 We focused on three markets: E-Mini SandP, and Gold or a Currency; or possibly a Grain or Meat market depending on conditions. We will also focus on several stocks for a completely mindless, brainless day of trading using an approach that requires very little attention once the trade has been entered. The session includes 'real-time entry and exits'. Watch me place orders in my accts.
Join me for two unforgettable sessions of real trading, with real money and professional objectivity. Win, lose or draw it will be a valuable learning experience. My last two short-term and day trading webinars were well attended. I make it my goal to provide 100% objective methods and procedures that are designed to tilt the odds in your favor.
Individual Webinars 3