Understanding and Trading Bitcoin
and Other Crypto Currencies

A 2-hour webinar* by Jake Bernstein
With special guest Elliott Bernstein
*THE RECORDED SESSION IS NOW AVAILABLE
SATURDAY, 16 December 2017
2-Hour Webinar
2:00 - 4:00 PM PT
If you have not already done so it's time for you to learn what crypto currency is, what it is not, how to use it, and most of all how to profit from it.
Dear Trader / Investor:
Whether you call it Bitcoin or S*itcoin, the fact is that trading in crypto currencies is here to stay. Given the rapid acceleration in digital everything, electronic currency was destined to happen and it will only increase in scope, magnitude, and implementation. If you have not already done so it's time for you to learn what crypto currency is, what it is not, how to use it, and most of all how to profit from it.

I was Amazed!

I would like to share a true story with you. For several years my son, Elliott Bernstein, had been prompting me to get involved in trading Bitcoin. For all the standard reasons (ignorance, lack of understanding, lack of trust, fear of innovation, laziness, and more) I kept procrastinating involvement and study of Bitcoin.

Although I knew that the day would eventually come for something like Bitcoin I kept finding good excuses not to pursue an understanding of this new and cryptic market. I couldn't quite grasp the concept that someone created a currency somewhere on a computer and people could actually mine for it electronically and trade it. To be honest, the ultimate concept is still somewhat elusive to me because I'm an old timer. I believe in trading what you can see, what you can touch, what you can feel, what can be grown, what can be pulled out of the ground, or what can be heard jingling in my pocket or wear on my finger.

No matter how many times Elliott explained Bitcoin to me, no matter how many times I watched videos explaining this market, something about it just didn't sit right with me. I heard over and over again that criminals use it to launder money. I saw a video documentary on the history of Bitcoin where they showed a drug dealer transacting business online in Bitcoin so as not to be detected by law enforcement. Did I want to trade something like that?

But, to his credit, Elliott persisted and on July 10, 2017 he opened a Bitcoin account for me on Kraken, crypto currency trading firm. He funded my account by sending me some Bitcoin from his account. It was so fast and easy to do! I paid him back. He demonstrated how easy it was to trade Bitcoin but, of course I couldn't relate to it because i needed to see a chart and indicators. So I went online and looked at some charts. I examined the trading volume. I looked at my indicators. I Noticed that they seem to work quite well in all time frames. I concluded that Bitcoin was a viable, tradeable market and that I need to learn it and trade it.
I Studied, I Learned, I Tested my Indicators

The chart below shows the Bitcoin versus US dollar daily with my MAC indicator. See my notes on the chart. Additionally, see my notes on another crypto currency, Ethereum. Whether you think that Bitcoin and other crypto currencies are the biggest bubble in history or a great opportunity, you need to be informed. How to get informed? You can go to the Internet and read the thousands of articles and/or YouTube videos about this market or you can attend my webinar and in 2 hours learn what you need to know in order to understand and most of all how to trade the crypto currencies and take advantage of the huge moves while still protecting yourself from the bubble that will burst.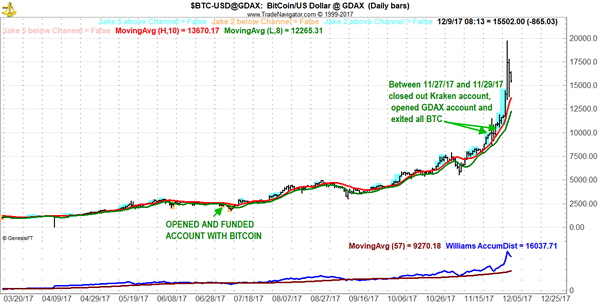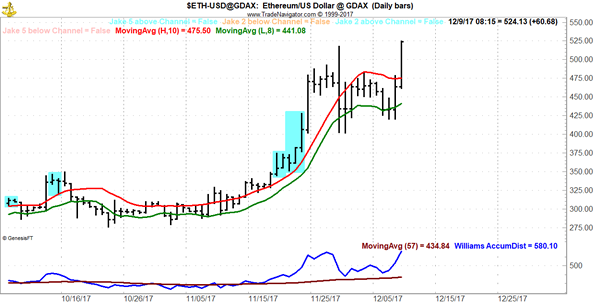 I made a 300% profit in Bitcoin!

Some of the Bitcoin that Elliott put into my account on 10 July 2017 was sold on 27 November 2017. I gave Elliott 50% of the profit (I'm a good dad). SEE CHART ABOVE
I missed the top but I have no complaints. I made money and I learned so much!

"You can't create something out of nothing"

Alan Greenspan speaking on CNBC a few days ago was very cautious and even noncommittal about crypto currencies. He did however say one important thing "you can't create something out of nothing". People have compared the explosion in Bitcoin to the Dutch tulipmania. There's a big difference. In the Dutch tulipmania people bought and sold something that actually existed. With the crypto currencies there is nothing that exists. And in a few days there will be Bitcoin futures! Yes, one day the bubble will burst and it will be catastrophic for many people. But for those of us who know what to do and how trade it, the rewards could be incredible!

My 2-hour Bitcoin Webinar on Saturday, December 16th, 2:00 to 4:00 pm, PST

I have received so many questions about Bitcoin. I am concerned about what will happen to traders who jump into this market uninformed. I'm even more concerned about the start of futures trading in Bitcoin. Having traded Bitcoin and studied the technical and fundamental side of the market I am prepared to teach you the following critically important information at my webinar:
A brief history of crypto currencies
What crypto currencies really are
Who regulates this market?
What the hell is "blockchain"?
Warnings and guidelines
How to trade Bitcoin and other crypto currencies
Technical indicators and rules
Examples in all time frames
How and where to open an account
How to evaluate risks and potential
Which crypto currency should you trade?
Bitcoin, Etherium, Lite coin
Bitcoin futures: trade or avoid
Guest appearance by Elliott Bernstein who started using Bitcoin
several years ago when he was living in China
Your questions answered
Join me at my first ever crypto currency webinar and learn how to use and protect yourself in this Wild West market.

I have kept the cost low at $89 to give everyone an opportunity to attend.
To register click below.
If you have questions please write me: jake@trade-futures.com
Best of trading,

JAKE BERNSTEIN
PS: if you bought the 2018 WEBINAR PACKAGE DEAL
I will include this webinar FREE OF CHARGE for you.
CLICK HERE FOR DETAILS - SUBSCRIBE TO THE WEBINAR PACKAGE