My Fellow Traders:
Take a look at this magnificent, incredible cycle in British pound versus US dollar futures. Not only has the cycle been highly accurate but it has also accounted for almost every major move up and down in this futures market for many years.  The astounding thing about this cycle is that its consistency dates back to the 1950s!

Did it take me a long time to find it?

Did it require sophisticated math, Fourier analysis, or complicated mathematical tools?

No! It required the simple use of the cycle finder tool on the Genesis trade Navigator software. It also required some knowledge on how to use this extremely powerful tool to find the best cycles in any timeframe and in any market.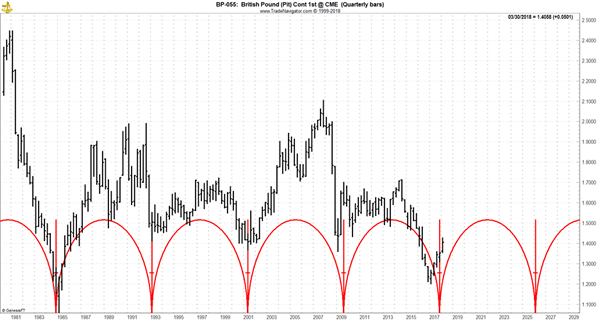 Although you need the Genesis trade Navigator software in order to get this job done, this fantastic tool is worth its weight in gold for finding the biggest and best moves in stocks, futures, and Forex.

Over the years, so many of you have asked me to demonstrate the use of this tool in a live session so that you can learn how to use it as well.

And so for the first time ever I will present a two hour webinar at which I will do the following:
A practical, workable, traders definition of cycles

The do's and don'ts of cycles

Examples of good and bad cycles

Exactly how to find cycles using the cycle finder tool on
Genesis Trade Navigator

The exact process I use for finding cycles

Calculating the average gain of cyclical patterns

Finding cycles within cycles (harmonics)

A list of every major cycle in every major futures market and stock indices

Projecting cyclical highs and lows

Fine tuning cyclical timing to catch the big moves when they begin

Additional indicators to increase cyclical accuracy

And a live demonstration of how I find the most accurate cycles in all market

s
Here's another one! I found it in less than two minutes using the tool combined with my procedure for finding the best cycles. The chart below shows my cycle in Apple (AAPL) which helped me make a great profit on the stock. And I just bought it again!

Cycles and Futures in Stocks

Using my approach you can find cycles and futures, Forex and spread relationships as well as cycles in stocks in any timeframe. I will also demonstrate how to use the logarithmic scale in order to find the longest term cycles adjusted for magnitude of move.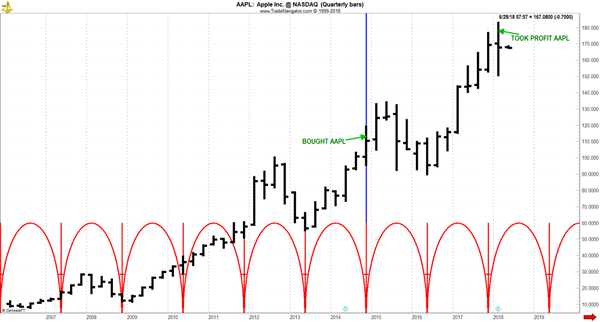 Join me for a fabulous learning experience!

At my webinar I will demonstrate the simple but effective process that I use to find cycles in order to help you spot the big moves after you find the cycles the right way. I will demonstrate live from scratch the exact process for finding cycles and determining if they have potential in your trading. While the big money is made in the big move with long-term and intermediate term cycles, I will also demonstrate shorter term cycles for quicker trading.

To register for this extremely important event
click the appropriate link below.
Truly,

Jake Bernstein
NETWORK PRESS

PS: if you have any questions call the office or write me:
jake@trade–futures.com
PPS: here for your evaluation and perusal is another cycles chart.
It never ceases to amaze me.