Introducing:

My best short-term interest-rate futures system ever
JB BONDBUSTER TRADING SYSTEM

Dear Trader:

Let's face it, the writing's on the wall. One day soon, sooner than you may know, the direction of interest rates will change and futures markets will begin a severe and sustained decline. The decline will likely begin with a severe initial crash in interest-rate futures that could last several days. I want to be on board that move, and I want you to be on board as well!

Based on the interest-rate cycle and the history of the US Federal Reserve, the uptrend in interest rates and the accompanying decline in interest-rate futures could last a long time.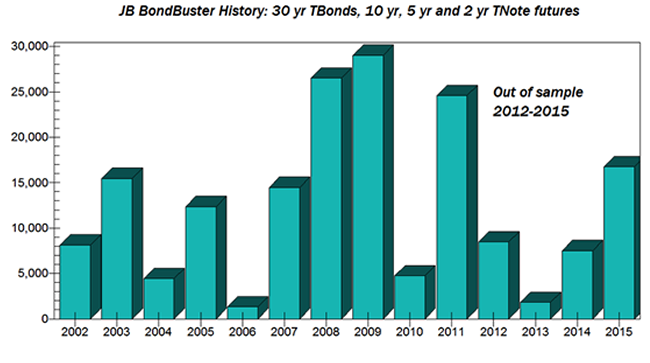 It's one thing for us to talk about what's expected but it's far more important to be prepared well in advance. But how can we prepare? Opinions are cheap. Depending who you talk to or who you listen to we are about to plunge into deep depression, a slight recession, a period of inflation, a period of hyperinflation, stagnation, or economic conditions heretofore unknown.

I won't join the chorus of prognosticators, although my cycles work is very clear about the approximate start of interest-rate up moves. I have, however, been spending many hours of research developing a short-term trading system that has the potential to get you on the right side of the markets and keep you there for the majority of the coming decline in interest-rate futures. Most traders will be caught unprepared for the coming collapse since they have not experienced the severity or persistence of interest-rate futures bear markets.
In 10 days I will release what I believe is my BEST TRADING SYSTEM for interest-rate futures. Some of the details of the system are explained below.
Short term Trades in 30-Year Tbond, 10-Year,
5-Year and 2-Year TNote Futures
My new JB Bond Buster trading system runs under Genesis Gold, or Platinum software. Every day after market closings it generates short-term, high odds, 100% objective and rule-based signals across the broad spectrum of interest-rate futures. This is extremely important due to the anomalies in yields (the yield curve) which will create unprecedented opportunities and relationships between the various instruments.  It is conceivable that my JB Bond Buster will be long one interest-rate vehicle while being short another,  thereby taking advantage of gyrations in the yield curve.
Incorporating My Best Patterns
My new trading system incorporates some of the most reliable, consistent, and accurate price and time patterns I have ever discovered! The development process I used in constructing my new system was careful, not overly optimized, and contains over three years out of sample data to validate its accuracy. In short, I'm very pleased and excited about the new system and its profit potential. I believe that JB Bond Buster can keep you on the right side of the market throughout the inevitable volatility that awaits us just down the road.
Strictly limited quantity of available Systems
I will only make available a very limited quantity of my new system in order to avoid diluting its performance. I offer the system to my clients on a first-come first-served basis. As a client, you are also eligible for the discount price. And I have kept the price low and eligible for the 2fer card price (save 50%).
What the JB BondBuster system includes
JB Bond Buster strategy basket and system for Genesis Platinum and Gold software
Video manual
Complete installation instructions
System updates if and when issued
Technical support provided by me personally
Complete disclosure of trading rules
The JB Bond Buster 60 minute webinar
100% objective trades and signals
Signals for 30 year T-bonds, 10 year T notes, five year T notes, and two year T notes
Complete disclosure of rules and procedures
Initial stops and trailing stops
All trades tracked from start to finish
You don't use Genesis? Get the signals daily by email
Some of you do not use the Genesis trading software but you want to trade my new system.

For two months I will accommodate you by sending daily email updates of all the signals, stops and follow-up, after which you can get the Genesis software and generate the signals on your own. Initially you won't need the Genesis software to trade the signals generated by my great new system.
Shown below, with commissions deducted are the performance histories of each interest-rate future. Although we can't guarantee the future, I believe that the concepts and patterns I used to developing the JB Bond Buster will continue to perform well, allowing us to take advantage of the coming massive volatility in these markets. Ideally, it would be best to take all signals in all four markets in order to replicate a historical record. Note that this record does NOT show profit maximizing strategy. Average trade length is 7 days.