Individual Webinars — Online Seminars
REGISTER NOW!
For one or more of my high-powered online Futures Trading Webinars! Each Webinar consists of detailed seminars designed to teach you the important concepts and applications in each area of trading. Get the tools you'll need for success in the futures markets!

You'll be able to print out the examples, charts, a synopsis of 'rules' & be able to replay the Webinars. My Webinars are ONLY available from this web site. In order to make the Webinars complete, you can get your trading questions answered personally by me during the question and answer sessions, and see other attendees questions and the answers I provide.

This is a great way to learn Futures and Stock Trading - study at your own pace and in the convenience of your own home or office, or attend the live sessions. And, you don't need to be a computer expert to make my Webinars work for you - just visit my web site and follow the easy-to-understand directions.
Webinar Collections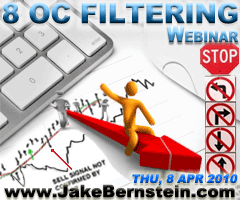 At long last, a new & effective confirming trigger for my 8 O/C filtering method. It is a rare event indeed that I invite another trader to present a webinar with me and when I do it is only because I believe that individual has a piece of research that is worthwhile either as a stand-alone method or as a filter for one of my methods. With Christian Helmut co-presenting.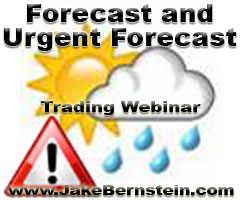 What's ahead for the next few months and years? See what Jake had to say in this very specific and hard-hitting forecast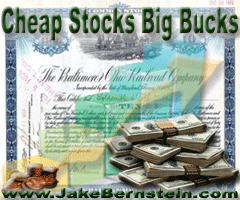 While the public complains about the market and the economy, there's HUGE moves happening frequently in low priced stocks. Let me show you how to find them in 3 step-by-step, clear & concise methods that I developed for: Finding, timing, trading & maximizing 'up-moves' in low price stocks ($15 or less) Not 'day-trades' nor 'short sells', but rather short-term 3-15 day trades.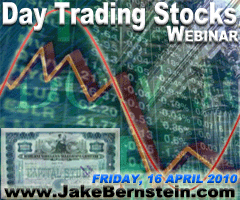 2 Hours, Three Exact Methods, Three Part Structure with 100% Objectivity - No guesswork & No analysis. Almost every day the stock market gives numerous day trading opportunities. That's the good news. The bad news is that there are thousands of stocks to choose from and choosing trades without objective criteria and speed can spell day trade losses rather than day trade profits.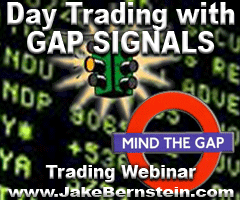 Jake discusses the gap trade method and its variations for day trading. He discusses entry and exit methods, stop and follow up as well as profit maximizing strategy. Specific examples and charts. Synopsis of rules. Q&A from attendees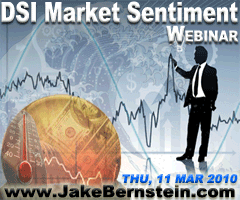 Attendees receive the entire (DSI), as well as 1 mo of the daily data service enabling you to make your own charts and indicators. Includes timing considerations and profit maximizing strategies with contrary opinion and more! My list of DSI clients reads like a who's who of professional traders, hedge funds, banks, brokerage firms and other financial analysts - find out why!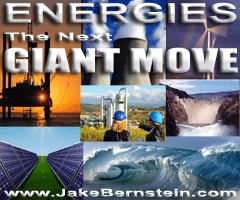 I rarely present Webinars on only one market. The last such webinar was my 'Go for the Gold' bullish forecast that was given prior to the big gold move, and given what I saw developing in the energy markets, I made very specific and possibly amazing forecasts on all energies including alternative energy.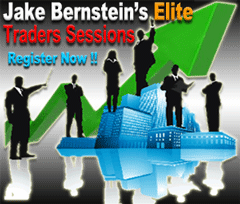 Jake's goals: Show you HOW, WHY, WHEN & WHAT to trade with 100% OBJECTIVITY, Help you AVOID common & not so common roadblocks to success, Help you learn to make the markets work for you, To keep things REAL! Jake won't use words "like", "might", "could", "interpret" etc. You'll have opportunities to ask Jake questions during the sessions in order to learn EXACTLY how it's done. Attendance is limited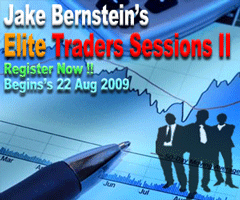 Jake's goals: Show you HOW, WHY, WHEN & WHAT to trade with 100% OBJECTIVITY, Help you AVOID common & not so common roadblocks to success, Help you learn to make the markets work for you, To keep things REAL! Jake won't use words "like", "might", "could", "interpret" etc. ETS II runs for 8 wks, 90min ea, focused on select diversified markets futures, spreads & timing, & some stocks. Attendance limited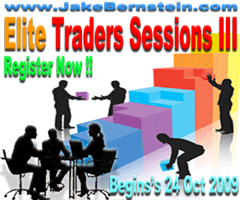 Jake's goals: Show you HOW, WHY, WHEN & WHAT to trade with 100% OBJECTIVITY, Help you AVOID common & not so common roadblocks to success, Help you learn to make the markets work for you, To keep things REAL! Jake won't use words "like", "might", "could", "interpret" etc. ETS III runs for 8 wks, 90 min ea, focused on select diversified markets futures, spreads & timing, & some stocks. Attendance limited
Jake's goals: Show you HOW, WHY, WHEN & WHAT to trade with 100% OBJECTIVITY, Help you AVOID common & not so common roadblocks to success, Help you learn to make the markets work for you, To keep things REAL! Jake won't use words "like", "might", "could", "interpret" etc. ETS IV runs for 8 wks, 90min ea, focused on select diversified markets futures, spreads & timing, & some stocks. Attendance limited
Individual Webinars 2